The Reports Addon for Newsletter adds analysis and retargeting tools for your mail marketing campaigns. Reports Addon works on the set of data collected by the core statistic component of Newsletter and it converts them in charts, subscriber subsets and other statistics.
If you install the Reports Addon when some campaigns have already been sent, even those will benefit from the analysis and retargeting provided by this extension.
Campaign reporting data is available only if the tracking is active on the campaign itself. If tracking is disabled, no data will be collected.
Before going into detail, check out our tutorial on how Reports works!
How to access the report panels
Both with the free and premium versions of Newsletter, you can access all the data by clicking on the button "statistics", which is located next to the sent campaigns. Clearly, when you install Reports, that button leads to a different reporting panel, where you can find quite a lot of detailed information about your campaigns.
Using Reports: 4 essential indicators
When you send a campaign, there are several indicators that are useful to understand the degree of success of your email marketing:
the number of targeted subscribers
the number of subscribers who opened the newsletter
the number of subscribers who clicked one or more links in your newsletter
the reactivity, which is the ration between the number of subscribers who opened the newsletter and the number of subscribers who engaged with your content by clicking one or more links (CTOR)
When you're sending out a campaign, usually you want to have as many clicks as possible. The indicators mentioned help you to understand what you need to improve. For example, a low number of opens means the subject of your campaign is not engaging enough. A low value of reactivity means your campaign content is not triggering the subscriber to click and continue to your site, e-commerce or affiliate site.
Of course, if your goal is only to send out information for your subscribers to read, the click and reactivity numbers could be irrelevant for you. As a general rule, it is recommended to provide some links to bring the subscriber to your site where more detailed content should be available.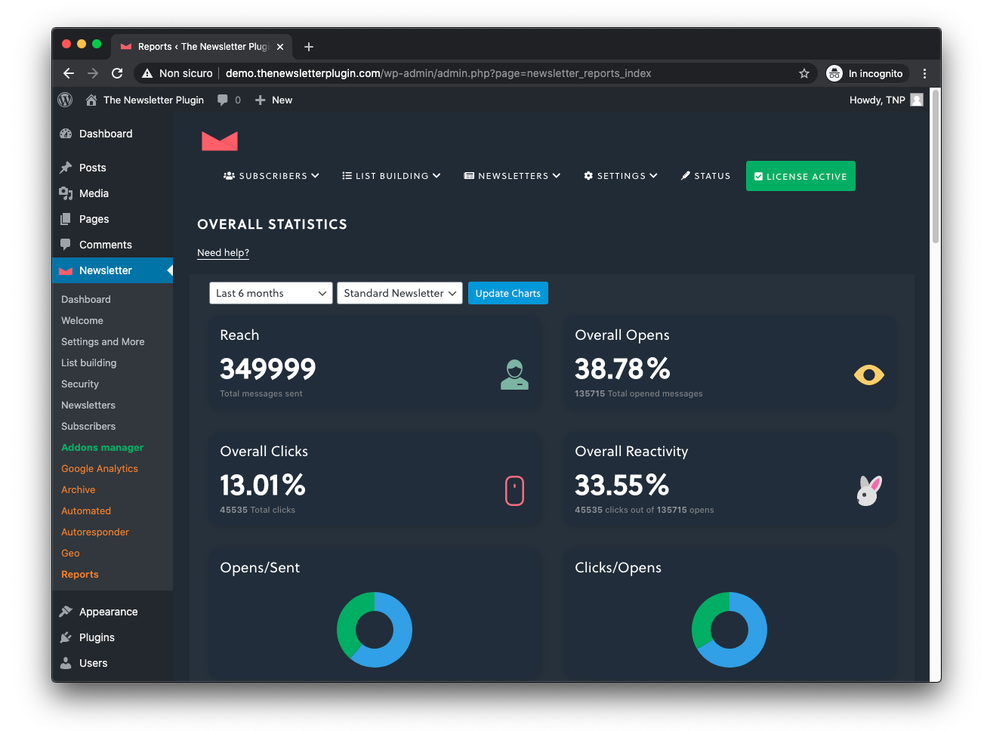 Errors and cancellations
If an error occurs while sending a campaign to a specific subscriber, it will be saved and displayed here. You can see all the affected subscribers on the Subscriber details panel (read below). Cancellations generated by the campaign are tracked where possible: it's a measure to understand if a specific campaign is triggering the removal from your list (and then you should check the possible reasons).

Table of clicked URLs
All the links clicked in your newsletter are tracked. The Clicked URLs table collects all URLs which have received at least one click and reports the number of unique clicks by subscribers. If a subscriber clicks twice on a link, only one click is reported. Hence, the reported number is the number of targeted subscribers which clicked that link.

Details down to subscriber level
With the Reports addon, you can check the behavior subscriber by subscriber: delivery errors, opens and clicks. Just open the statistics of a sent campaign and click on the button "subscriber details" under the "reach" info. There is an option to export that list with every detail or filter by delivery status.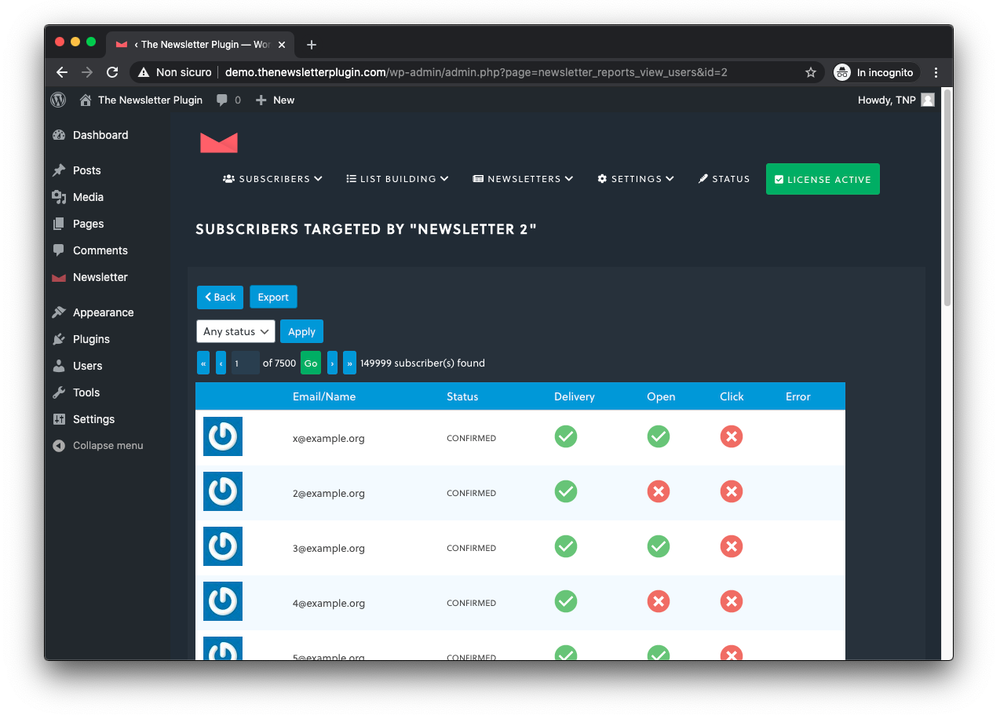 Moreover, the Reports Addon adds even statistical information on the single subscriber profile. You can see all the emails sent to a subscriber with their status, by visiting the subscriber's editing panel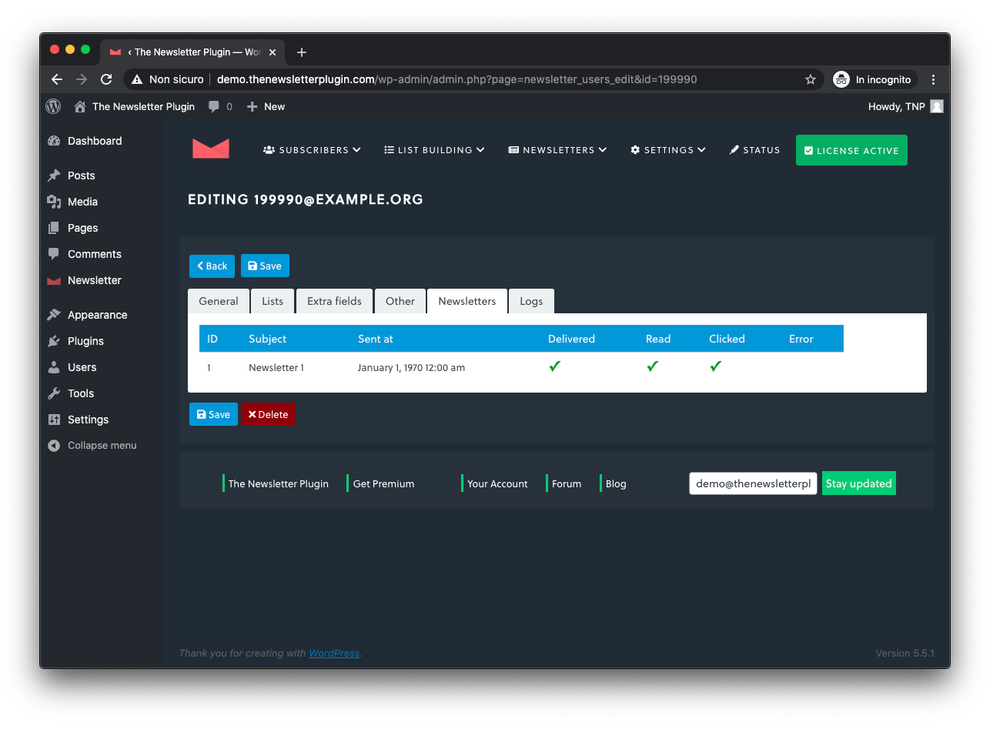 Retargeting options
For each newsletter, either a single newsletter or an Automated one, or even a newsletter connected to the Autoresponder step, you will have some retargeting options to segment your subscribers.
The main actions you can take are:
retarget who read the newsletter
retarget who clicked the newsletter (given his interest, you can send for example a follow up)
retarget who did not read the newsletter
retargeting by delivery error
retargeting by clicked link
With our Retargeting options, you can add the involved subscribers to a list that can be later used to send a second campaign. We prefer to have this intermediate step to add the subscribers to a list, because you can then accumulate subscribers from different campaign.
For example, you can send a series of emails on a specific topic. For each of those series, add everyone who clicked on a specific link to a new special list and thus build a list with high interested people.
Retarget by delivery error
This is a special retargeting where you can select the subscribers which suffered of a delivery error. Note that a delivery error DOES NOT means the subscriber is not reachable or the address is no more valid. Those cases are bounced subscribers.
A delivery error happens when the mailing system fails for some reasons and misses to even try to send the message to a subscriber. Delivery errors may happen, it is not uncommon specially when using cheap providers. If the number is relevant, you can think to resend the campaign only to who were affected.
Usually if you use external delivery service , like the ones we support and integrate, there should never delivery errors reported.
Geographic distribution
When the Geo Addon is installed, reports shows a World map with a level of interaction by country. The map is only indicative, but can suggest some retargeting options or can even be a statistic indication of interest for a specific product.
The per country targeting in this case can be set directly on a newsletter configuration panel.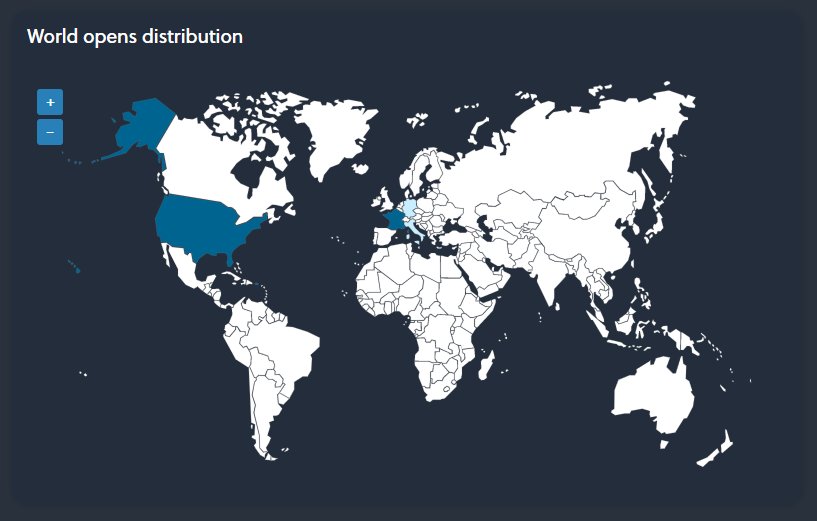 Campaigns targeting options
The Reports addon adds a subscriber selection option for your campaign: the filter by subscription date. Using that filter you can target only subscribers collected (or imported) after a specific date. This option is available on the Sending Options tab.