WordPress has an internal scheduler used to schedule jobs, like the plugins, themes and WordPress iteself versions check, the planned post published and many other. This scheduler is used by plugins for their own jobs.
Newsletter uses the scheduler to send newsletters and other statistics related operations.
The WordPress schedule may fail to work because of the nature of PHP: it needs to be timely externally triggered and WordPress does it auto calling the page wp-cron.php.
If the blog has low traffic or the hosting provider has configuration problem, that trigger could not be activated regularly or in extreme cases not activate at all.
It's not a problem of WordPress, even the bug Magento needs to be triggered to keep its scheduler working!
An external trigger
The solution is to use an external trigger. There are few services (free and not free) that provide this feature, eventually even your provider can have this feature in its cpanel. We'll discuss that in another article.
One service we can suggest to try is cron-job.org. In few seconds you can signup and then setup a cron job which provides a trigger for your blog scheduler.
How to setup the cron job
First, you need to find out the URL of your blog used to trigger the scheduler. Enter the Status panel of Newsletter and look for "WordPress scheduler" entry. There you can find an URL which look like http://www.yourdomain.com/wp-cron.php.

Then start a new cron job on cron-job.org and set the name, the URL (as previously found out on Status panel) and the interval (5 minutes).
Please note: add you own domain on cron-job not "thenewsletterplugin.com", it's only an example!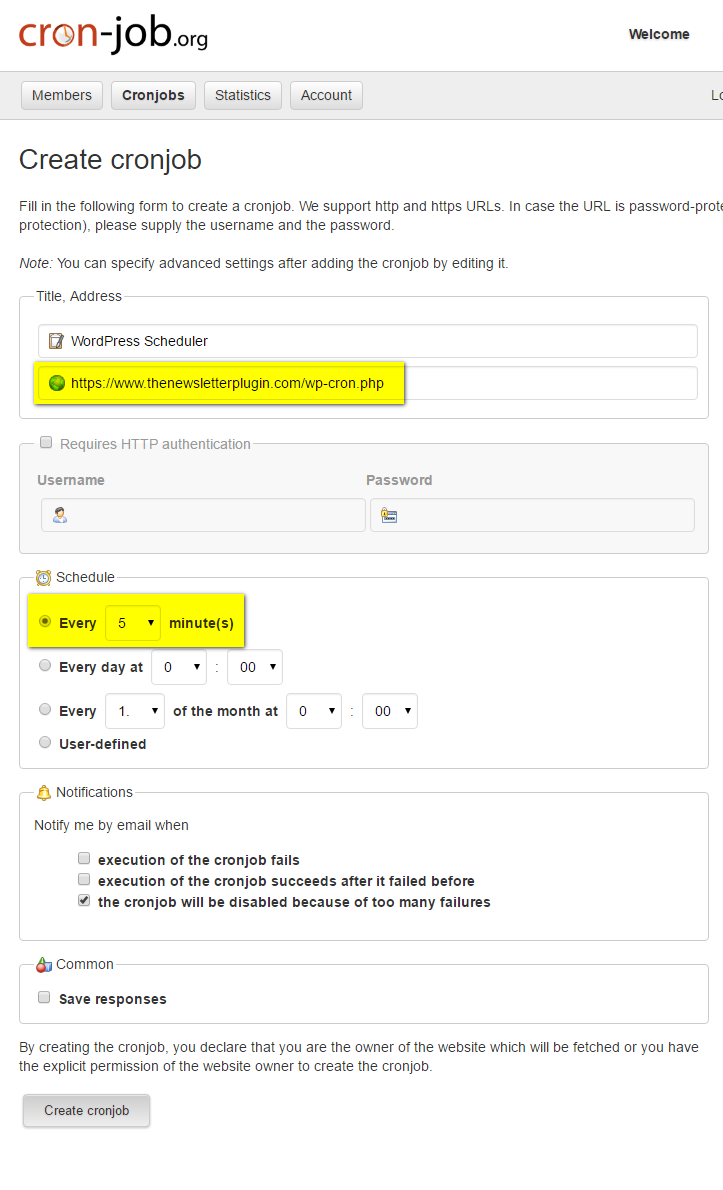 Done. You need only to check from time to time if there are errors. From now on your blog scheduler should be working correctly.