A new aspect covered by GDPR is the data retention period. GDPR asks to decide and communicate how much time the personal data is kept before being totally deleted because no more useful.
Defining an obsolescence time is not easy and it's strictly related to the business and the relation between the customer and the supplier. For example, saying that an account will be delete after two years has no meaning. What should be pointed out is how much time an inactive account is kept with its data.
In Newsletter, with the GDPR update, we track the "last activity" of a subscriber. Last activity is a generalized concept, it could be a click on an email, a profile change or even a blog visit. Of course Newsletter is not a monitoring system, it relays on things like the opening of a newsletter or a profile change.
Having that last activity time, the blog owner can decide, from time to time, to delete inactive accounts even if they still result confirmed. A good practice is even to delete periodically the unconfirmed, bounced or unsubscribed accounts as well.
The tool is available in the Subscriber Maintenance panel as shown in the picture below.
Deletion of inactive subscriber is not direct, first those subscribers need to be added to a list you can configure to be use for those kind of contacts. This gives even the option for a last contact or to create "inactive contacts lists" for different times of inactivity.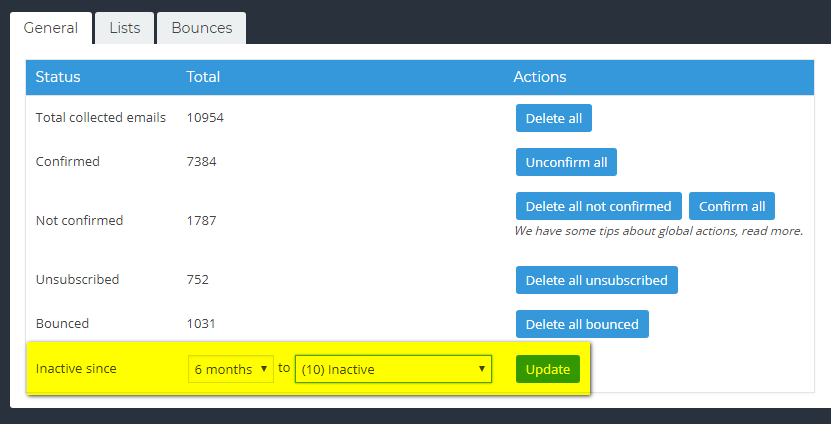 If you finally decide to delete permanently those subscribers, you can move to the lists panel and use the deletion tool.