SendGrid Extension
The SendGrid Extension for Newsletter provides integration with SendGrid and bouncing detection service.
SendGrid provides an mail delivery service you can use to send emails from your Newsletter plugin solving most of the problems caused by provider limitations (black listed servers, strict limits, reliability, …).
From time to time they change the pricing and the plans, so checkout the plan is better for you. Surely they have at least a free trial, it's a perfect staring point.
Important
Due to recent upgrades in SendGrid infrastucture and API interface, we're dismissing the support, through this extension, to the SMTP interface and the Version 2 of their API, while we are keeping full support for their API Version 3 (more efficient and more secure!). New accounts have no problems, but very old accounts (few years) could need a migration to the new SendGrid infrastructure to have the Version 3 of their API available. Do a test with our extension to see if the API Version 3 works for you. We're available to give support on configuration migration from API Version 2 to API Version 3.
Using the API 3 method
This is the recommended setting, other methods will be removed in future versions. Read more below.
Select the API v3 method in this extension panel.
Go to your Sendgrid dashboard to create a API key following the Settings menu and selecting API keys. They can change without notice the menu and the dashboard organization so you may find this feature moved under another menu. Press the button "Create API Key".
When you add a new API key they'll ask the permissions you want to give it. Select "Full Access" and give the API Key a name. Other permission options require specific knowledge to be used.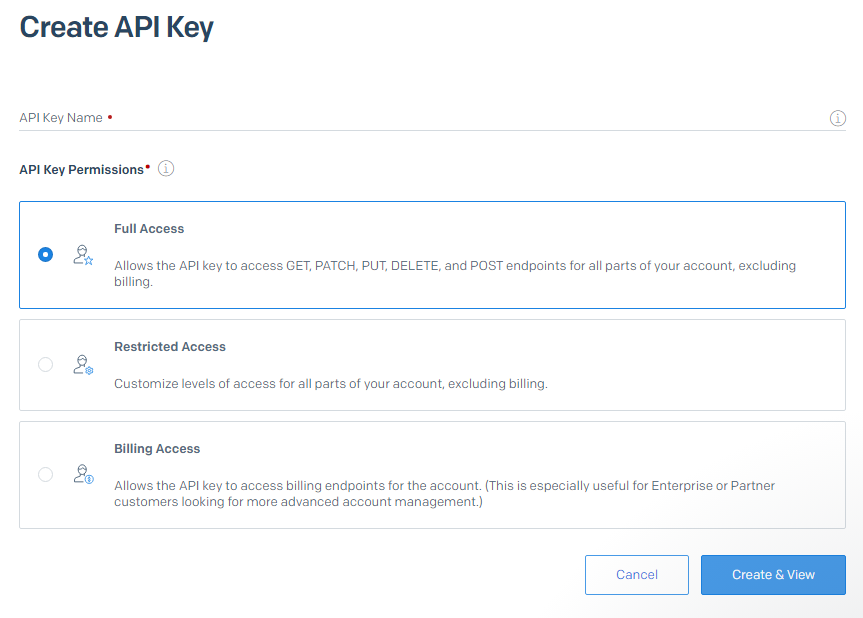 Press the button "Create & View" and copy the API key in a safe place since it won't be shown again.
Set the API key on SendGrid Extension configuration panel, save and make a test. Shortly an email should be delivered at the selected test email address and be logged in the SendGrid console.
Do a connection test before enabling the extension. Once enabled, Newsletter starts to use it so you must be sure it is correctly working.
If it is not working
There could be a little problem with old Sendgrid accounts since Sendgrid left the old account in an old platform where the API v3 is not supported. Ask the SendGrid customer support if your account can use the API Version 3 and, if not, to migrate the account to their new platform.
Using the SMTP method
This has been deprecated and removed. If you want use the SMTP method, configure the SendGrid SMTP parameters directly on Newsletter SMTP configuration panel.
Bounces retrieval
If active, the SendGrid extension starts a daily process that checks for bounces connecting to the appropriate SendGrid service.
Bounced email addresses are marked as "bounced" and won't be contacted anymore.
Note that there are two kind of bounce, soft and hard: this module only checks for hard bounces (permanent error on that mailboxes) while soft bounces (temporary error, for example a full mailbox) are ignored.
Note: since the API v3 are providing other kind of bounces (they are differentiating the hard bounce, spam and so one) we're updating the interface to get even those kind of bounces.
To install this extension see the Newsletter Extensions Installation page.