Contact Form 7 Extension
This extension integrates Newsletter with Contact Form 7, one of the leading free contact form plugins for WordPress.
Contact Form 7 allows the creation of forms with simple but powerful shortcodes to collect any kind of data (text, preferences, …). Forms can be easily published on standard WordPress pages or posts, without any effort.
Installing this Contact Form 7 Extensions for Newsletter, you can easily offer a newsletter subscription option to any forms and get the double action to be contacted and to start a subscription process.
How it works
The extension listens to form submission and, using an easy configuration, checks whether the visitor asked to subscribe, extracts his email and starts a regular subscription process (with a confirmation email if Newsletter is configured on double opt-in mode).
The extension does not interfere nor modify Contact Form 7 plugin code, its behavior or any created forms!
How to configure
The quick way:
Change your contact form adding a checkbox: [[checkbox newsletter "Subscribe to my newsletter"]]
Set on the extension admin panel the form field to be used as email and the form field to be used as subscription indicator (the check box you just created).
The extension administrative panel lists all forms you created with Contact Form 7.
For each form, you can select which form field is the email to subscribe and which field is the "check box" used to offer the newsletter subscription.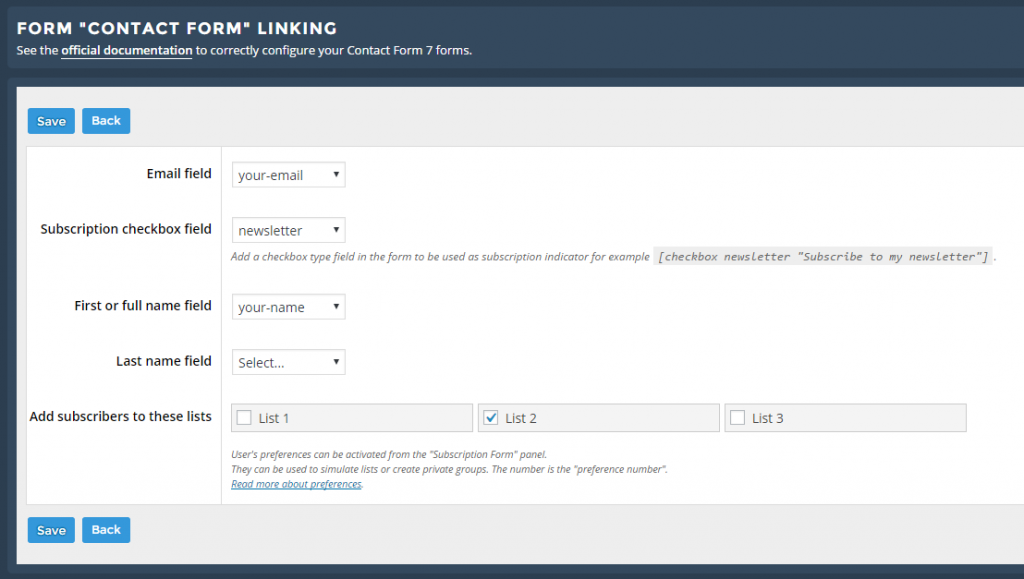 That latter field should be added to every form you want integrate with Newsletter. Since every form has its own layout, field order and so on, Newsletter does not change your original Contact Form 7 forms.
Anyway, adding a subscription check box to a Contact Form7 form is ultra-easy. Just insert this short code:
[[checkbox newsletter "Subscribe to my newsletter"]]
You can change the name ("newsletter") and the label as you prefer. Once the form is adapted, the extension will find that new check box and you can set it as "marker" for the subscription. See the pictures below for a simple example (they may differ from the actual Contact Form 7 or extension panels).
More on Contact Form 7 check boxes can be found here.
Here a picture of a Contact Form 7 form setup example: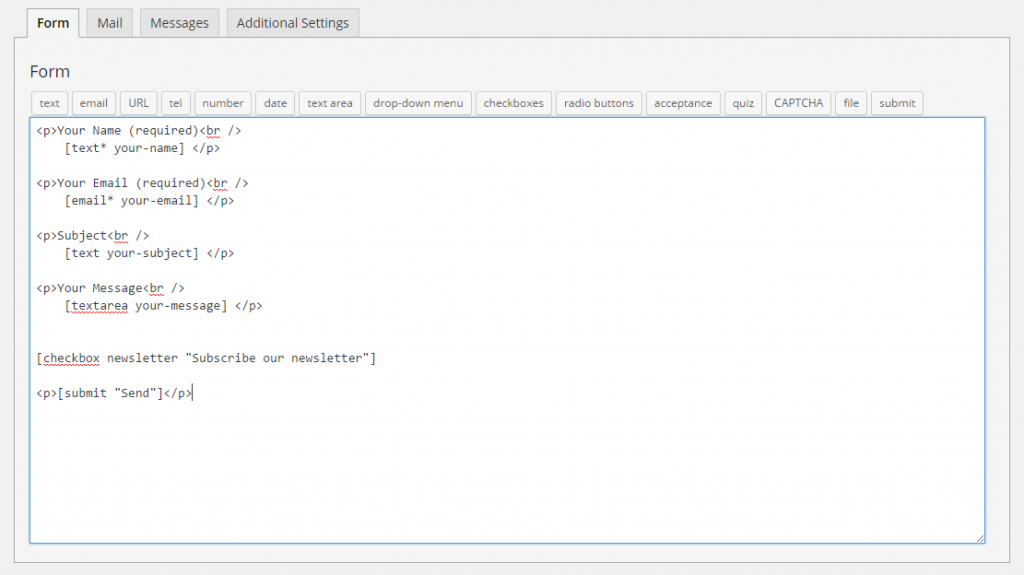 Lists
Each form linked to Newsletter can be configured to collect subscription in one or more lists. Those list can even be private (most of the times you will use private lists for that kind of subscriptions).
Adding subscribers in a specific list let you to later target them when sending a standard newsletter or with an automated newsletter.
Privacy check box (for EU laws)
Some countries require an explicit confirmation for the subscription, with a check box initially unchecked and which must be checked to proceed. You can use two different approaches:
Using as newsletter subscription label something like "I want to subscribe your newsletter an I accept your privacy statement"
Adding a second mandatory privacy check box using the Contact Form 7 syntax [[checkbox * privacy "I accept the privacy statement"]]
The privacy checkbox of Newsletter cannot work inside Contact Form 7 forms so you can add it manually if required.