Simple tips to send newsletters with an higher reliability.
When you signup and pay for a domain, most likely you take even few mailboxes with their email addresses.
If you have a serious provider, giving you the mail server it will setup some configuration (technically DNS records) to make your email more reliable and less subjected to be classified as spam.
Those settings are to be considered a best practice and almost mandatory: when in doubt, ask the provider if they have at least setup the SPF record for your domain.
Well, with your mailboxes you got the SMTP parameters, a set of values (host, username, password, port and protocol) with instruction to use them in email clients (Apple Mail, Outlook, Thundebird and so on). Anyway you can always ask the provider for them.
The SMTP is the service we use to send emails.
Newsletter can send emails using this service, replacing the basic method used by WordPress which, most of the times, is not reliable.
Having the SMTP values handy, enter the Settings/SMTP panel of Newsletter and set all the parameters. Without even enabling the SMTP, do few tests from that panel and check for errors. If they're successful and the emails are correctly delivered, enable the SMTP and save.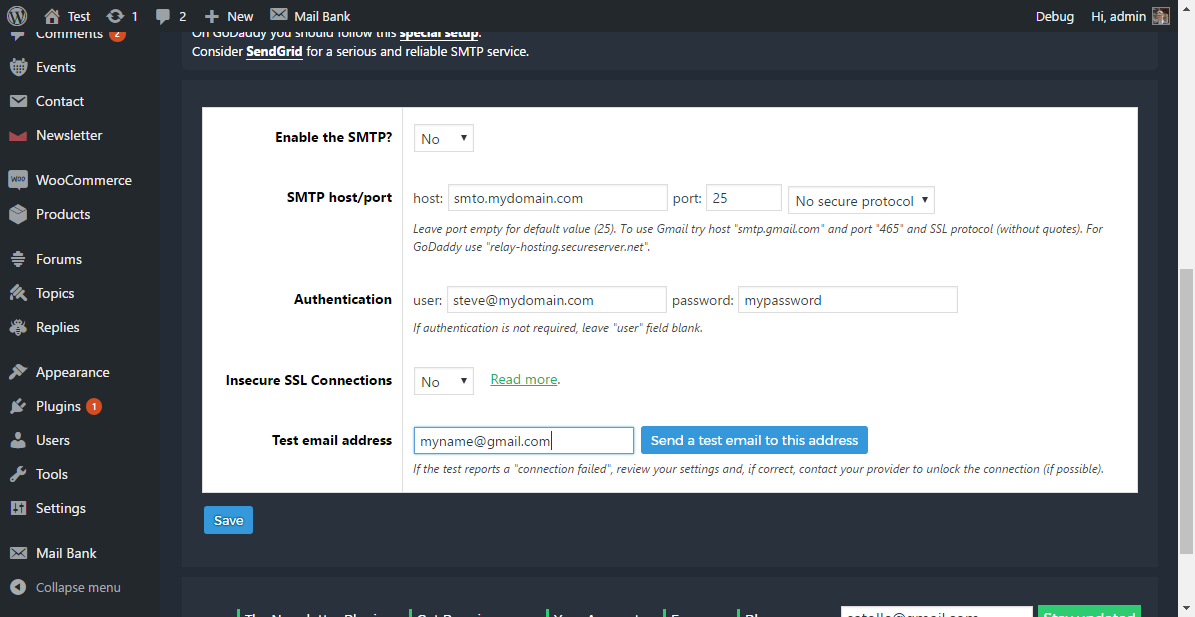 From now on Newsletter will send emails using your SMTP.
Important tips
You can think at your blog as a virtual person which needs an email address to send messages.
Hence you should setup a mailbox for your blog using for example info@mydomain.com. The blog won't read the mailbox but error messages could be returned so you should check it from time to time.
The address you create for your blog, info@mydomain.com, should be (or better must be) setup as the sender address in the Newsletter main setting.
Marketing tips
info@mydomain.com should pretty generic and impersonal. For you blog use a nicer name, like "staff", "support" or even a fake name, like "lara", "steve" o whatever you like more.
The sender name will be "Steve from [blogname]" or just "Steve".
Using an SMTP plugin
If you want to take the advantages of using your SMTP to send email for the whole blog, you can install an SMTP plugin, like PostMan. In this case, you will leave the SMTP panel of Newsletter inactive and use the SMTP parameters directly in PostMan.
Be sure to check on Newsletter main setting to have the "send email directly" flag to "disabled".