Did you know you can move your subscription form to a whole different website or to a dedicated landing page? That's very easy to do and it's super useful when for any reason you want to separate your subscription page from your actual website, as in special marketing campaigns, for example. Let's see how to to do it!
Just go to List Building > Subcription Form Fields from the Newsletter dropdown menu, then move to the Form code tab. Here you can copy the standard Form Code and paste it wherever you want, in a dedicated landing page on in a different website. That's it!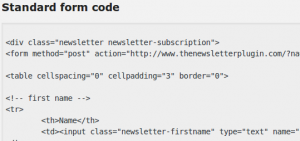 Couldn't be easier, right? 🙂
See you with the next Tnp Tip!