Hello dear users!
Recently some of our users reported some vicious bot attacks to their subscription forms, so we decided to introduce some security related features to Newsletter that will help avoiding this kind of situations.
From now on, subscription forms created with Newsletter will take advantage of three new security checks that can be used together or individually: a Captcha module, an IP Black list and an address black list. Let's go briefly through each of them.
The Captcha Module
A captcha is a security check that kicks in after the user fills in his data and before actual registration, and it usually requires him to perform some actions "manually". To keep things simple yet effective, our captcha requires to do some simple math. This simple step prevents bots to automatically subscribe through the subscription form.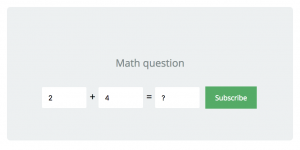 The IP Black List
In this text field you may input IP addresses, one per line, you'd like to be blocked. If a subscription comes from one of these IPs, the connection will be interrupted.
The Address Black List
The address black list helps in blocking subscriptions from specific email address domain. The match is "ends with". So if you want to block every @mail.ru just add that string in the blacklist.
After the update, you will find these options under the Subscription panel inside Newsletter. Also, read more in our documentation page.
That's it for now, we also have some great news coming up in the following weeks, so don't forget to follow our social accounts and check our official blog!