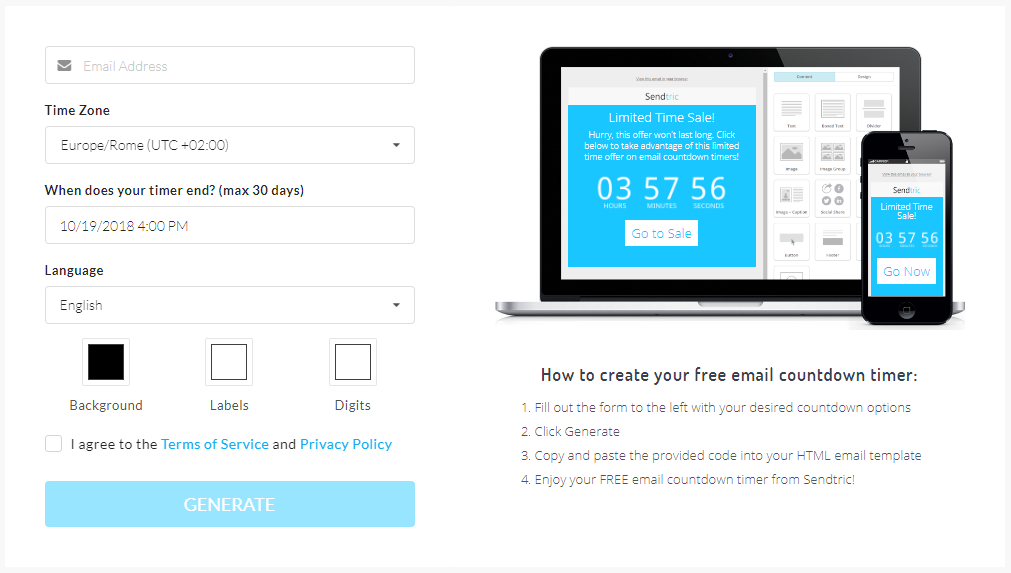 Push a sense of urgecy to potential customers is a well know marketing technique. How many time your visited a car dealer and found an incredible offer which shut-off in few days?
To create such sense of urgency a countdown timer is a nicredible powerful tools. But can we add a dynamic timer inside a newsletter. Yes.
The Sendtric tool is an online service which helps in creating countdown images that can be embedded even on emails. Emails are very limited when we want add dynamic content (video and javascripts are forbidden) but images are easy to add and usually not blocked.
In this short video we show you how to add a countdown timer in your newsletter. It takes no more than 10 seconds using Sendtric. Of course there could be similar services, just choose the one that better suits your needs.
Steps to follow:
enter the Sendtric site, configure your coundown and press "generate"
you'll see live your countdown and get a little HTML code snippet
copy only the image address
enter your newsletter editing panel, and drag an image block
use the copied image address from Sendtric and you're done
Check out the video below to see how easy it is.